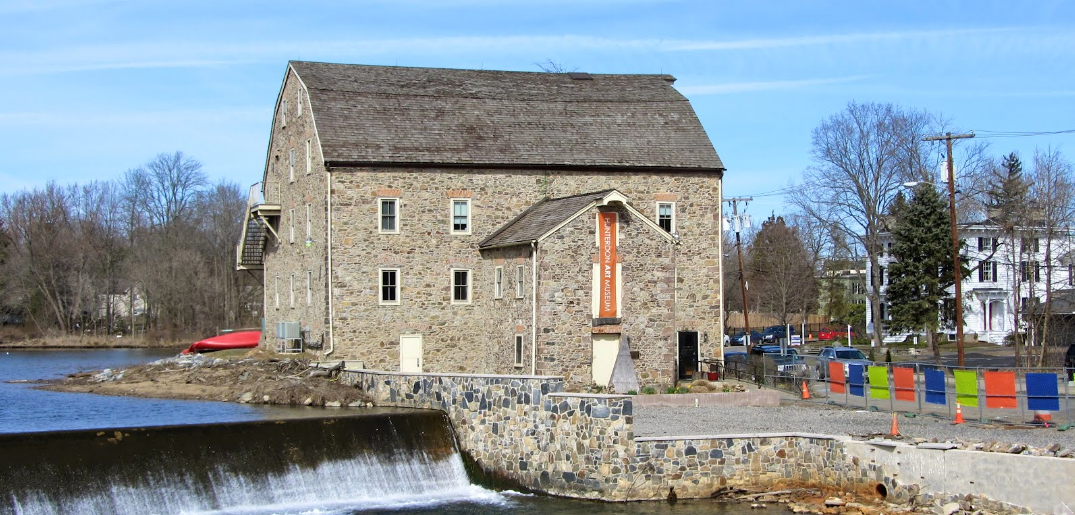 Hunterdon Art Museum
Partner
7 Lower Center Street, Clinton, NJ 08809
THAT Artist Exhibition Saturday, May 1 & Sunday, May 2, 11 AM to 5 PM
VIRTUAL OPENING via TWITCH on Friday, April 30, 7 PM to 9 PM – live streamed by Todd Lambrix and Terri Mcnamara, hosts of The Large Glass, a weekly arts talk show. PLEASE NOTE: this is a VIRTUAL event. The museum will NOT be open during this time, but we hope you will connect to the program (see link below).  
We are beyond thrilled to have Todd and Terri live streaming this Virtual Opening in celebration of THAT 2021!
They also will live stream from other locations during the weekend on Twitch TV and you can watch from home. Twitch is free and there is a chat window where you can comment and participate with the rest of the viewers. It is fun and interactive.
Keep in mind that if you go there before the scheduled broadcast time, it may not look like the right place but rest assured, when the stream goes live, that page transforms into a viewer for the show. You may want to create a free account there and follow the channel. If you do, you will get a reminder when the broadcast goes live.
If for some reason the above link does not work, here is the actual link:
http://twitch.tv/toddlambrix
SEE HAM's REOPENING PROCEDURES PAGE FOR POLICIES.
Hunterdon Art Museum has partnered with THAT since its inception and is proud to present an exhibition of work by artists participating in the Tour. On Friday, April 30, from 7 PM to 9 PM, The Large Glass, hosted by Todd Lambrix and Terri McNamara, will live stream a virtual opening from the exhibition.
The exhibition also will be open on Saturday & Sunday, May 1 and 2, from 11 AM to 5 PM. Please see the Profile pages to view work by all of the participating artists.
Artwork in the exhibition will be for sale with 50% of each sale going to the artist, 25% benefiting HAM, and 25% funding THAT's 2022 Tour.
In addition to the exhibition featuring all of the artists on the Tour, an exhibition of eight of Hunterdon County's high school art teachers and – for the first time – eight of their students will be part of THAT. This show highlights a sample of the talented teachers who instruct our students and work created by those students.
A note from HATS:
"It is with great enthusiasm that we announce our first county-wide collaborative High School Art Teacher and Student show at the HAM's, River Gallery.  From the seeds of THAT (The Hunterdon Art Tour), HAT was born.  With a nod to our profession, we have grown into HATS – Hunterdon Art Teachers and Students!  We are incredibly honored and excited to help celebrate art and art education in Hunterdon County. HATS represents a cohort of Hunterdon County High School Art Teachers and their Students. This show celebrates the powerful and important relationship between student and teacher. Each of us, informs, grows, and learns from the other. And when it works well, it truly is symbiotic. We believe that being a good teacher is an art form in and of itself. But each of us is dedicated to being a teaching artist. We question, explore, interpret, and sometimes just make. Our art informs our teaching in a way that no textbook can."
We thank THAT and HAM for their dedication to and support of the arts in Hunterdon County
~HATS ( Hunterdon Art Teachers and Students)
About Hunterdon Art Museum:
Founded in 1952 in Clinton, New Jersey, on the banks of the South Branch of the Raritan River, the Hunterdon Art Museum is housed in an 1836 mill that is on the National Historic Register. The Museum, a center for art, craft and design, focuses on new and innovative work with the goal of creating dialogue, generating ideas, and sparking creativity. The Museum presents more than a dozen exhibitions by internationally, nationally and regionally recognized artists and offers approximately 300 studio courses and workshops for adults and children and nine weeks of summer art camp annually. The Museum connects people to art in ways that educate, challenge, and inspire.