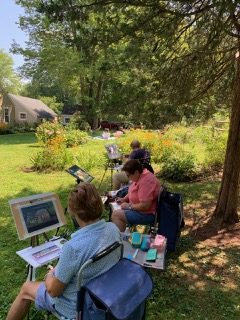 Tri-county Artists in Plein Air (TAPA) at WhittemoreCCC
Partner
7 Rockaway Road Oldwick, New Jersey 08833
THAT events on Saturday, May 1 & Sunday, May 2 from 11 AM to 3 PM.
Trails are OPEN every day from Dusk 'til Dawn.
Wear a Mask & Practice Social Distancing
Tri-county Artists en Plein Air (TAPA) Exhibit
Rosemary O'Rourke • Anne Cade • Robyn Cunningham
Carolyn Evans • Kathy Sheola • Arleen Szeliga
This group of artist friends gather in all seasons to paint together "en Plein Air" – in the open air. Some met through work, others in classes (including at Whittemore) and all through their mutual love of painting.
We are from the tri-county area of New Jersey – Hunterdon, Morris, and Somerset counties. We paint at various outdoor venues and parks including Whittemore, whenever the weather permits.
Covid closed many locales but Whittemore was our saving grace. The garden and grounds have been open throughout the pandemic. You may have seen us painting at Whittemore on many weekends or at events.
We would enjoy having more artists join us. If interested please leave your name and contact info on the signup sheet. Though we do not give lessons, we can recommend various teacher artists in the area.
About the Artists
After a career in Chemistry and Computer Programming ended in retirement, Anne Cade returned to an earlier interest in drawing and painting. Besides taking classes, she started painting in plein air and became part of this group. Being outdoors, painting with friends, has been wonderful and inspiring. Anne feels like one of the Impressionists, struggling to capture light, atmosphere, mood and scene. It is a never-ending challenge and delight.
Robyn Cunningham retired from a career as an executive in Insurance Regulatory Compliance, where she worked with rules and regulations on a daily basis. Upon her retirement, at the urging of a good friend, she started to take art classes. Since she had never been interested in doing art she was pleasantly surprised that she enjoyed the feeling of being free and creative, using the other side of her brain. Born in Maine, she has always loved being outside enjoying all that nature has to offer. Since living in the Tri- County area for about twenty-five years, Robyn has developed several wonderful relationships with fellow artists, all of whom share a love of "Plein Air" painting. Her favorite medium is oil, however she enjoys both watercolor and acrylic. Robyn's work has been exhibited in several shows throughout the Tri-county area. Robyn is a member of TAPA ( Tri-County Artists En Plein Air), NJPAP ( New Jersey Plein Air Painters) and The Garden State Water Color Society.
Carolyn Evans has enjoyed plein air painting for several years. Originally from Ohio, she loves the beauty of New Jersey, especially the counties of Somerset, Hunterdon, and Morris. Carolyn presently lives in Bedminster and has studied with Andrea Gianchiglia, Oscar Peterson, and Steve Zazinski, among others. Recently retired from the Morris School District, Carolyn has also worked as a graphic designer and as an advertising production manager. Carolyn is grateful for art and the joy of plein air painting. She loves the connection it gives her to the natural world, and has enjoyed the fellowship and artistic support her plein air group has provided.
Creativity is rarely thought of as being synonymous with insurance. Throughout her long career in insurance, Rosemary O'Rourke worked in several areas that allowed her to be imaginative in crafting and designing coverages and policies for hard to place insureds. As Rosemary neared retirement, she started taking time to nurture her artistic side. Rosemary always felt this creative bent. Her outlet was primarily photography, though Rosemary found it hard to pursue while working. Finally several years ago, Rosemary started taking drawing and painting classes. Nature is the theme in most of her work. Preferred mediums are watercolor, when painting outside, and oil, in the studio. Creating with a pencil or brush, gives Rosemary such a sense of peace, her zen. Whenever possible, her preference is to paint outdoors (en Plein Air), in the company of friends and fellow artists. As a resident of NJ and FL, gardens and parks always provide wonderful subjects to paint, through all the seasons. Rosemary is a member of TAPA (Tri-county Artists en Plein Air), NJPAP (New Jersey Plein Air Painters), and the Garden State Watercolor Society. She has sold numerous pieces and exhibits in several shows each year throughout New Jersey.
A 30 year resident of Morris County, Kathy Sheola has always had a love for the Hunterdon, Morris, and Somerset County landscape. Having drawn and painted as a child, Kathy minored in Fine Arts in college and became an admirer of the French Impressionists. In the 1990's her love for art led her to create an Art Appreciation program for her local elementary school. A designer of window treatments for the last 3 decades, her wish has always been to return to the easel to paint en Plein Air. Kathy finds much joy and relaxation painting in watercolor, oil and pastel, as well as photographing the local landscape. Kathy is a member of the Garden State Watercolor Society, Art Matters (Washington Township), NJ Plein Air Painters (NJPAP), and Tri County Artists En Plein Air (TAPA). She plans to continue her art education in retirement.
During Arleen Szeliga's 30-year working career for an insurance company she occasionally took oil painting lessons at a nearby art center, which had become her favorite thing. However, from time to time she thought about trying watercolor but hesitated as she had heard it was very hard to do. After a little while of taking lessons she decided it was a good time to give watercolor a try. Her favorite theme immediately became painting flowers. Finally, after retiring five years ago, she decided to put all her attention into getting better at watercolor. In class she met some lovely artist friends who got together and joined other fellow artists in the NJPAP group where they painted all over New Jersey. This was just perfect for painting with watercolor.  After a period of time their little group of six was formed (TAPA) and they continue to paint en plain air as much as possible, loving every minute of it!!!