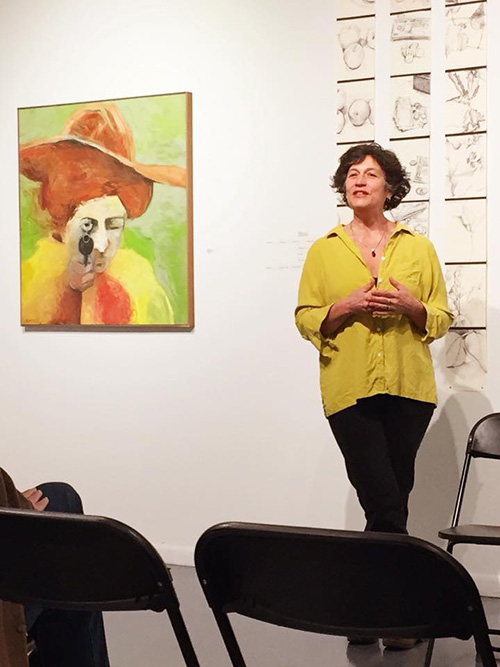 Val Sivilli
Painting
I am showing this year in a group exhibition with Susan Mania, Cynthia Besselaar, Constance Bassett and David Caan at the John PrallJr. House in Stockton.
When I enter my studio the pistols are pointed directly at me.  They put ME on the spot – call ME on my shortcomings, repetitive patterns and limitations – they call ME to act, to think, to stop and redirect.
The Assassins paintings began as a little private joke I had with myself – a down-time fantasy infused with a little bit of humor.   "Assassin 1" references a found photograph of a 19th century sharpshooter. She was evidently employed by a carnival or a circus.  People with differences as well as women found a home in the circus. It became an outlet for self-expression as well as employment.  The Circus has become resonant source material for my work. The cacophony of humanity resides within the body of the Circus.  Not only is it a colorful place – and I love working with color, it speaks about the outsider.  The circus can push the boundaries of what we expect the human body to be able to endure.  As well,  in the Royal Court, the King's Jester –  the clown – served to expose "truth to power" freely and without fear of retribution.  Today,  Cirque de Soleil and the recent demise of Barnum & Bailey provides us with a clear mirror to our current state of affairs.
ABOUT ME: 
Currently and for the past 3 years, I have been working with a unique and amazing team of artists in Hunterdon County. We have created  THAT: The Hunterdon Art Tour.  2017 was our first open studio tour, 2018 is our second year.  Because I raised my children in Frenchtown and have lived through the cultural limitations present in this county, I feel the responsibility to continue to bring the awareness of the pivotal role of the artist to my home. Wonderful things can happen when exposing a community to the power of real art.  This past winter, I co-curated, with Catherine Suttle, an exhibition called "Keepers of the Chroma" at the Center for Contemporary Art, in Bedminster NJ. I teach Color Theory, Drawing, BookArts and Printmaking as an Adjunct Professor of Art at both Raritan Valley Community College and Bucks Community College. I was born in Brooklyn raised on Long Island. My undergraduate studies were done at both SUNY Purchase and Alfred University. My graduate work was at Mason Gross School of the Arts, Rutgers. From 1984 to 1991, I was the studio assistant to both Nancy Spero and Leon Golub. You might know me from the now retired Civilian Art.
email. valsivilli@gmail.com    or   cell. 908-268-2843